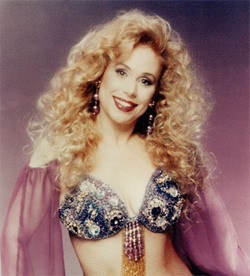 SAKTI—Exotic Middle-Eastern Show
Click Here for BOOKINGS!
SAKTI RINEK has over 30-years experience in the Oriental Art of Bellydancing. She is an international performer and instructor extraordinaire, having lived and danced full-time in Cairo from 1991-1995. Her tours include Egypt, Israel, Jordan, Turkey, Germany, Switzerland, Japan, Taiwan and Mexico. She specializes in the Double Sword Dance, Cane Choreography to the Egyptian music A la Nar (on fire), the Shamadan or Candelabra Dance, and a variety of Egyptian techniques and combinations. Experience Sakti's unique life as a world-famous bellydancer! Discover the exciting articles, photographs, classes, costumes and accessories she has to share by clicking on the links below.


HOME | BIOGRAPHY | PHOTOS | ARTICLES&REVIEWS
INSTRUCTION | EVENT CALENDAR | STORE | CONNECT | LINKS

R . I . P. Ahmed Mahmoud Khalil
Sakti is a Master teacher and is available to teach workshops Nationally and Internationally.
For more information or to schedule a seminar,
CONTACT SAKTI
Some of Sakti's
specialties include:
Classical Oriental
Egyptian Pop
Arabic Gypsy Flamenco
Assaya (cane)
Shamadan (candelabra)
Melaya Lef
Ghawazee
Khaleggy
Isis Wings
Sword
Tray
Veil
Candle Ritual
Group 9/8 Turkish Gypsy
Drum Solo
Entrances
Travel Steps
Hip Articulations
Technique
Slow Sensual Movements
Arms
Steps & Combinations
Various Shimmies w/Layering
Sassy Movements & Combos
Finger Cymbal Patterns
with Step Combinations